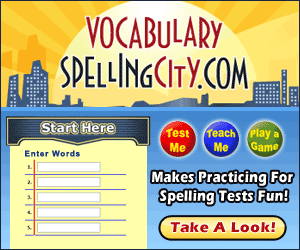 Our next contest is coming up! On Tuesday I will be giving away a free upgraded membership to the spelling curriculum site
http://www.spellingcity.com/
!!
Here is just a bit of what that will find on spellingcity.com:
- Over 42,000 spelling words and ten learning games!- A REAL person who says each word and sentence.- Free home pages for teachers and parents to save lists.-
How To Videos
to explain to teachers and parents how to use SpellingCity.com.- A free forum and newsletter with more vocabulary and spelling resources!
- Ten
spelling and vocabulary games
to play online or to print.- Free printables for handwriting practice with your saved lists.- A
Resources Section
which highlights features and existing lists for Dolch words, compound words, sound-alikes (their, there, they're), contractions, possessives, and more.
After taking the online spelling test, students can print out a report, retake the entire test, or get tested only on spelling words that they got wrong the first time.
TeachMe spells and displays the word in ways that stimulate memory for visual and verbal learners.
Printable Games include WordSearch, UnScramble, WhichWord?, Sentence UnScramble and MissingLetter.Printable Handwriting Worksheets for combined spelling and handwriting practice can be created from any saved list (this feature only works if the list is saved). Choices includes three sizes of lines, capitals or small letters, script or cursive, and with directional arrows on or off. How cool is that?
Teachers: try our new
Spelling City Parents' Letter
, available as PDFs for you to print and send home with your students' spelling word lists.
Even if you dont win be sure to go check out SpellingCity.com for lots of free spelling help!